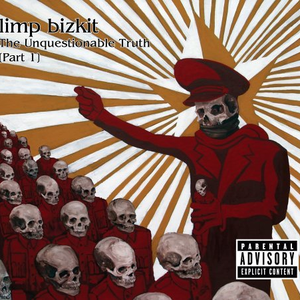 Album Songs
Album Info
The Unquestionable Truth (Part 1) is the fifth studio album by the American nu metal band Limp Bizkit. Released in 2005, it is the first release by the band to feature guitarist Wes Borland since he rejoined the group. He had left the band in 2001, and their previous album Results May Vary, was recorded without him. Drummer John Otto was absent for much of the album, and Sammy Siegler took over drumming duties for the band. After signing with Cash Money Records in early 2012, the band revealed that they are planning to release a sequel, titled The Unquestionable Truth (Part 2), as an EP.

The album differs from the band's established sound and lyrical subject matter by focusing on darker subjects and featuring a more experimental sound. The album's lyrics focus on subjects such as propaganda, Catholic sex abuse cases, terrorism and fame. Released without advertising and promotion, The Unquestionable Truth (Part 1) sold over 1,000,000 copies worldwide, peaking at No. 24 on the Billboard 200. Reviews were mixed, but Borland's return to the band was praised, as was the new musical direction, which was considered to be ambitious.

IGN reviewer Spence D. described the album's sound as being "sinister", calling Wes Borland's guitar playing on "The Propaganda" a "skirling swirl of darkness". Allmusic reviewer Stephen Thomas Erlewine described the album's music as "neo-prog alt-metal". "The Truth" was strongly influenced from industrial music, while "The Key" features a funk-based sound. "The Surrender" features Fred Durst singing against Sam Rivers' minimalist bass lines and ambiance provided by DJ Lethal Read more on Last.fm. User-contributed text is available under the Creative Commons By-SA License; additional terms may apply.