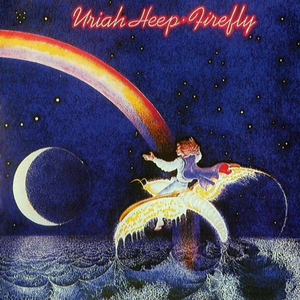 Album Songs
Album Info
Firefly is the tenth album by Uriah Heep, recorded in autumn 1976 and released in February 1977. It was the first album not to feature the original Uriah Heep singer - David Byron, as he was fired in spring 1976 due to heavy drinking. John Lawton became his replacement and recorded 4 studio albums with the band, the last of them never officialy released. It was also the first album to feature current bass player, Trevor Bolder.

"Wise Man" was released as a single. "Sympathy" also became quite a big hit. The album was well-received, considering the risky change of a singer. It did well especially with the German audience, since Lawton was at that time living in Germany and singing in a German band Lucifer's friend..

The album was re-relased with 4 bonus tracks in 1997. In 2004, an expanded deluxe edition was released with 8 tracks added to the original album.

Firefly was the first of 3 albums released by this line-up of the band. It featured:

John Lawton
Ken Hensley
Mick Box
Trevor Bolder
Lee Kerslake Read more on Last.fm. User-contributed text is available under the Creative Commons By-SA License; additional terms may apply.