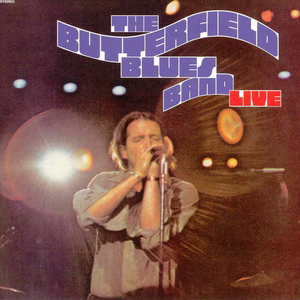 Album Songs
Album Info
Live at The Troubadour, Los Angeles, CA, 1970.03.22.

Personnel:
Paul Butterfield (vocals, harmonica)
Rod Hicks (bass)
Ralph Wash (guitar)
Brother Gene Dinwiddie (vocals, tenor sax, flute)
Steve Madaio (trumpet)
David Sanborn (alto saxophone)
Trevor Lawrence (baritone saxophone)


Though largely forgotten by the public at large today, this was a very influential and highly accomplished band back in the mid-'60s. For one thing, they were one of the first racially integrated bands, and they were a blues band who played with a force and amplification that greatly appealed to rock audiences, making them one of the first American blues bands to "cross over." Anyone who's ever said that "white guys can't play the blues" obviously never heard Paul Butterfield, the autocratic leader of the band whose passionate but unremarkable vocal talents paled in comparison to his virtuoso harmonica skills. The other "star" in the band was lead guitarist Michael Bloomfield, the guitarist of the mid-'60s called a genius by Jimi Hendrix.

In 1967, inspired by his idol Junior Parker, Butterfield formed a "big band" that featured a Gene Dinwiddie-arranged horn section and by the late '60s included Ralph Walsh (guitar), Rod Hicks (bass), Ted Harris (piano), and George Davidson (drums). Seasoned in blues, jazz, and R&B, the group assembled at L.A.'s Troubadour club in March of 1970 to play the gigs recorded for this release.
Read more on Last.fm. User-contributed text is available under the Creative Commons By-SA License; additional terms may apply.