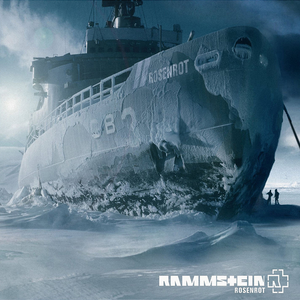 Album Songs
Album Info
Rosenrot (German for "Rose-red", listen) is the German NDH-metal band Rammstein's fifth musical album. It was released on October 28, 2005 in Germany, December 6, 2005 in Canada, and March 28, 2006 in the U.S. A limited edition with a bonus DVD is also available.

The album includes six unreleased songs from Reise Reise that had been omitted for artistic reasons, and five completely new ones. It was originally going to be titled Reise, Reise Volume Two, but on August 18, 2005 the album was announced as Rosenrot.

The cover art is nearly identical to the Japanese import of Reise, Reise. The image is a slightly altered photograph of the icebreaker USS Atka, taken on March 13, 1960 at McMurdo Station, Ross Ice Shelf, Antarctica.

While Rammstein did not actively promote this album, the band built anticipation through a variety of means. The first single from the album, Benzin, premiered at the Berliner Wuhlheide and has been subsequently released. Rammstein's official website features one-minute samples from six of the album's songs, and had featured a prominent release-date countdown. A brief section of the chorus from "Rosenrot" plays in the background of an e-card containing photographs of the band and basic album information. Read more on Last.fm. User-contributed text is available under the Creative Commons By-SA License; additional terms may apply.