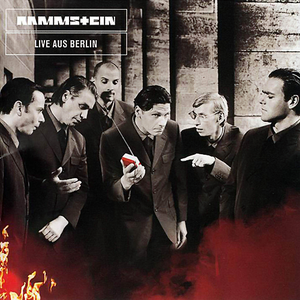 Album Songs
Album Info
Live aus Berlin (German for "Live from Berlin" or "Live out of Berlin") is a recording of a concert by the German NDH-metal band Rammstein in 1998. It has been released in several formats:
CD (15 tracks)
2 CD Limited Edition (18 tracks + multimedia content)
Censored Video/DVD (Without Bück dich)
Uncensored Video (With Bück dich)

There is no uncensored DVD version of Live aus Berlin. However, the song "Bück dich" can be found on the Internet and on the Family Values tour '98 DVD.

The performance of "Bück dich" ("Bend down", "Bend over") is controversial. The portrayal of anal sex using a water-squirting dildo led to the video being given an 18 certificate in Europe. The act led to the lead-vocalist Till Lindemann and keyboardist Christian "Flake" Lorenz being arrested during the Family Values Tour in the U.S. in 1998. Read more on Last.fm. User-contributed text is available under the Creative Commons By-SA License; additional terms may apply.