AC/DC › Dirty Deeds Done Dirt Cheap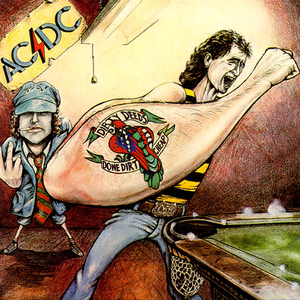 Album Songs
Album Info
Dirty Deeds Done Dirt Cheap is the second international studio album by Australian hard rock band AC/DC, released in December 1976 in Europe and delayed for release in the U.S. until April 1981. All songs were written by Angus Young, Malcolm Young, and Bon Scott.

Originally released on Atlantic Records, it peaked at #3 and is currently certified 6x platinum by the RIAA. The album was re-released in 2003 as part of the AC/DC Remasters series.



Overview
This edition of Dirty Deeds Done Dirt Cheap is considerably different from the original Australian edition released in September 1976, featuring a different cover and track order.

On this album, the Australian version's "R.I.P. (Rock in Peace)" and "Jailbreak" are replaced by "Rocker" (from 1975's T.N.T.) and "Love at First Feel", the latter being one of only two tracks from international AC/DC albums not available on the band's Australian albums. (The other is "Cold Hearted Man", released on European pressings of Powerage.) Conversely, several songs that are available on Australian AC/DC albums have not seen overseas release. However, "Love at First Feel" was released in Australia as a single.

Though the international album was released by Atlantic Records in Europe in 1976 it was not picked up for U.S. release at the time. Following the American success of Highway To Hell in late 1979 import copies of the album, began to appear as imports in the U.S. Some of these imports were the original Australian edition on Albert Productions. However Atlantic Records also pressed the international version in Australia and many of these copies were also exported to the U.S. Strong demand for both import versions eventually led the U.S. division of Atlantic to finally authorize an official U.S. release in April 1981 which went straight to #3 on the Billboard album charts.

Two songs on the international album were edited from the full length versions on the original Australian album. The full length "Dirty Deeds" has the title of the song chanted 4 times starting at 3:09, but on the edited version the chant is heard only 2 times. "Ain't No Fun" lasted 7:29 on the Australian album but was faded out early to 6:57 on the international version. However, both these full length versions were restored on the 1994 Atco Records remastered CD of the international album. The most recent 2003 CD edition on Epic Records goes back to the edited versions as on the 1976 and 1981 international vinyl editions.

Additionally, a song titled "I'm a Rebel" was recorded during the Dirty Deeds Done Dirt Cheap sessions in September 1976, with music and lyrics written by Angus and Malcolm Young's older brother, Alex Young. This song was never released and remains in Albert Productions' vaults.

Angus came up with the title of the album when he was watching an episode of Beany And Cecil. The antagonist, Dishonest John, carried a card that read: "Dirty Deeds Done Dirt Cheap, Special Holidays, Sundays and Rates".


Track listing
All songs composed by Angus Young, Malcolm Young, and Bon Scott.


Side A
"Dirty Deeds Done Dirt Cheap" – 4:11 (full length version) 3:52 (edited version)
"Love at First Feel" – 3:13
"Big Balls" – 2:39
"Rocker" – 2:52
"Problem Child" – 5:47

Side B
"There's Gonna Be Some Rockin'" – 3:18
"Ain't No Fun (Waiting Round to Be a Millionaire)" – 7:29 (full length version), 6:58 (edited version)
"Ride On" – 5:54
"Squealer" – 5:27
Most editions of this album contain edited versions of the title track and "Ain't No Fun (Waiting Round to Be a Millionaire)." The 1994 remastered CD on Atco Records contains full length versions of both songs.
The track "Rocker" was originally released on T.N.T. in 1975.

Personnel
Bon Scott – lead vocals
Angus Young – lead guitar/backing vocals on 1
Malcolm Young – rhythm guitar, backing vocals
Mark Evans – bass guitar/backing vocals on 2-9
Phil Rudd – drums

Production
Producers: Harry Vanda, George Young
Mastering supervisors: Michael Fraser, Al Quaglieri
Digital remastering: George Marino
Digital assembly: Eugene Nastasi
Cover design: Hipgnosis
Sleeve photo: Paul Canty
Photography: Hipgnosis, Philip Morris, Michael Putland, Neil Zlozower

Charts
Album - Billboard (North America)

Year Chart Position
1981 Pop Albums 3

Singles - Billboard (North America)

Year Single Chart Position
1981 "Big Balls" Mainstream Rock 26
1981 "Dirty Deeds Done Dirt Cheap" Mainstream Rock 4
Read more on Last.fm. User-contributed text is available under the Creative Commons By-SA License; additional terms may apply.